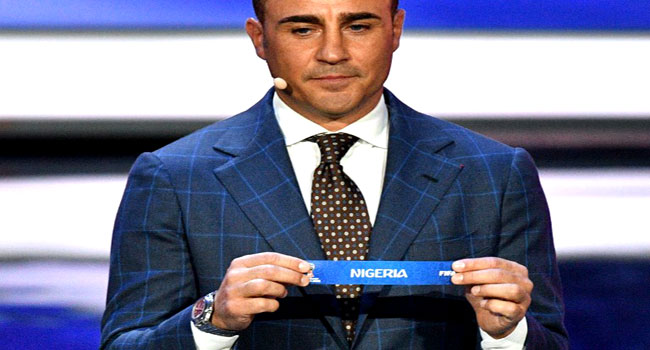 Reactions from football lovers have been trailing the 2018 FIFA World Cup draws which took place on Friday in Moscow, Russia.
A breakdown of the draws is highlighted below;
Group A – Russia, Saudi Arabia, Egypt, and Uruguay.
Group B – Spain, Portugal, Morocco, and Iran.
Group C – France, Australia, Peru, and Denmark.
Group D – Nigeria, Argentina, Croatia, and Iceland.
Group E – Brazil, Switzerland, Costa Rica and Serbia.
Group F – Germany, Mexico, Sweden, and South Korea.
Group G – Belgium, Panama, Tunisia and England.
Group H – Poland, Senegal, Colombia, and Japan.
While some twitters say they can't wait to watch Nigeria play Argentina, others described both teams' group as the "death group.
See reactions below…
Argentina and Nigeria have been in the same groups at:

'94 ✅
'98 ❌
'02 ✅
'06 ❌
'10 ✅
'14 ✅
'18 ✅

Inseparable. pic.twitter.com/MugGNss1uq

— Goal (@goal) December 1, 2017
Since I was born and now I'm getting old, I've never seen Nigeria and Argentina in a different group in world cup. Brothers/Sisters have you seen? pic.twitter.com/aJeTaXTdL5

— Chelsea (@oki_peter_) December 1, 2017
Nigeria and Argentina love story makes me believe in uncle Sola's soul-ties.

— Doc C (@tweetMOPOL) December 1, 2017
Av been having chest pain ever since I heard the Nigeria and Argentina news God please take control @Gidi_Traffic

— princess lara (@mzlara_h) December 1, 2017
I want a relationship that can be consistent as Nigeria and Argentina in World Cups. #WorldCupDraw

— Doctor YazzY Olu (@Dr_Yazzy) December 1, 2017
One wish for tomorrow's draw before I go to bed, please no Nigeria-Argentina. After 1994, 2002, 2010 and 2014. Enough is enough! Goodnight.

— Mootaz Chehade (@MHChehade) November 30, 2017
Another Argentina Vs Nigeria, I just think this is FIFA's way of letting us know the difference between a competitive game and a friendly game. #WorldCupDraw pic.twitter.com/JhuG0BoTzo

— Elvis Tunde ⚓ (@Tunnyking) December 1, 2017
Every time Nigeria and Argentina #WorldCupDraw pic.twitter.com/EOvdqxWncF

— ♔ King Absolute ♔ (@KingAbsolute_) December 1, 2017
Very soon Nigeria and Argentina will soon be in the same group in Copa America

— Warrior (@leonejor) December 1, 2017
Dear FIFA,

This is to remind you that Nigeria Super Eagles have only two matches to play because we had already played and beat Argentina 4-2 in Krasnodar, Russia.

Therefore, we have only Iceland and Croatia matches left.

Thanks for your understanding. pic.twitter.com/4GyoyD0mWT

— Chelsea (@oki_peter_) December 1, 2017
Can't wait for Argentina v Nigeria at World Cup 2018…

And then at World Cup 2022…

And at World Cup 2026. #WorldCup

— John Bennett (@JohnBennettBBC) December 1, 2017
Nigeria and Argentina…. The FIFA World Cup draw worst kept secret

— Olawale Omo Adigun (@olywal) December 1, 2017
Argentina and Nigeria have been drawn together in the 2018 World Cup, 2014 World Cup, 2010 World Cup, 2002 World Cup and the 1994 World Cup. #WorldCupDraw

— Roy Nemer (@RoyNemer) December 1, 2017
WHAT IS FIFA'S OBSESSION WITH NIGERIA AND ARGENTINA??!!! https://t.co/7OgGFj4atJ

— Övie (@OvieO) December 1, 2017
The post Fans React To World Cup Draws, Say Nigeria And Argentina Inseparable appeared first on Channels Television.