Members of the Nigerian Bar Association (NBA), Ikeja Branch on Tuesday staged a protest over the reviewed Land Use Charge Law in Lagos State.
The lawyers during the protest marched to the Governor's Office in Alausa, carrying a banner and various placards with inscriptions lamenting over the law.
They were led by the Chairman of the Lagos NBA, Adesina Ogunlana.
The lawyers were joined by other civil society groups as they walked from the Bar Centre of the Ikeja High Court to the Governor's office.
They also chanted solidarity songs expressing their disapproval over the increase in the land use charge.
READ ALSO: Buhari Withholds Assent To Electoral Act Amendment
Lagos State Commissioner for Information and Strategy, Mr Kehinde Bamigbetan had on Wednesday described the law as 'a progressive enactment.' He also clarified the figures on the Land Use Charge Law.
He decried the misconceptions and misinformation about the new law saying the 'progressive enactment' was duly made by the House of Assembly and handed over to the executive for implementation in the overall interest of the people.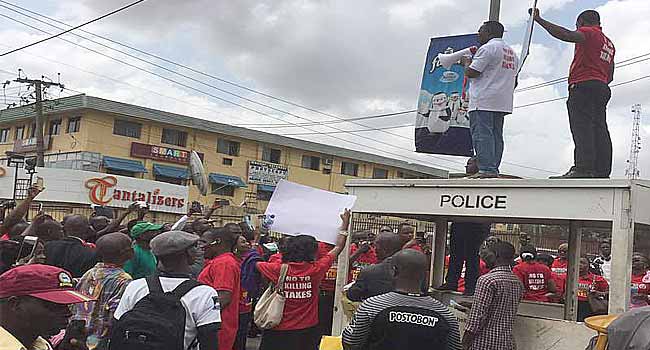 The commissioner dismissed the humongous figures being bandied about on the social media, saying many of the calculations were based on arrears of many years of non-payment.
"The fact is that this law took a long process to be made," he said. "It started as a bill and went through the first reading, second reading, public hearing to which all stakeholders were brought together to debate it and some of the relieves we have seen were part of the debate expressed by the stakeholders about the need to protect the vulnerable segment of the society."
The post Lawyers Stage Protest Over Lagos Land Use Charge appeared first on Channels Television.