Beneficiaries of the development drive of Rivers State Governor, Nyesom Wike recently trooped to different project sites across the state to praise his contributions to the growth of the state.
From Isiokpo in Ikwerre Local Government Area where the Rivers State Governor inspected the Isiokpo Internal Roads to Birabi Street in Port Harcourt and Port Harcourt Mile One Market, the people commended the governor's performance.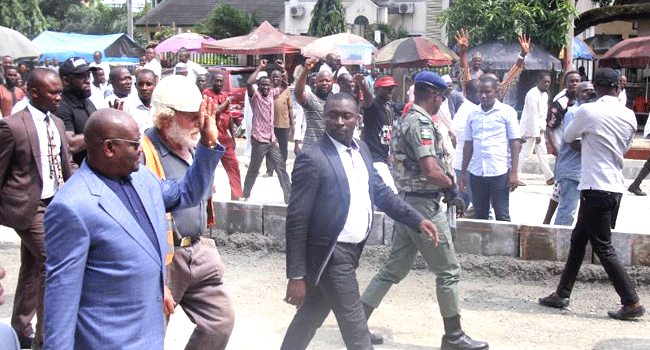 At Birabi Street, Foreign Exchange Traders sang songs requesting the Rivers State Governor to seek a second term in office.
Market women and traders at the Port Harcourt Mile One Market danced around the governor, endorsing him for a second term.
The governor also inspected ongoing construction of restaurants and cinemas at the Port Harcourt Pleasure Park, Produce House and National Industrial Court.
In an interview, Governor Wike expressed satisfaction with the quality of work in Isiokpo, where the administration is delivering 22.6 kilometres of the network of roads to kick-start the economy of the town.
He said: "It is our duty to monitor what the contractors are doing. We are committed to ensuring that the contractors maintain the standard demanded by us".
The governor stated that the foreign exchange traders have been informed that they have to relocate after the dualization of the Birabi (Hotel Presidential) Road is completed.
Governor Wike stated that his administration will improve on the aesthetics of Birabi Road by creating a green area along the route.
"Those who engage in foreign exchange trading along Birabi Street have been informed that they will move".
The governor said the market when completed will help resolve the challenge of street trading along Mile One Market road.
The post Rivers Residents Commend Wike On Infrastructural Development appeared first on Channels Television.