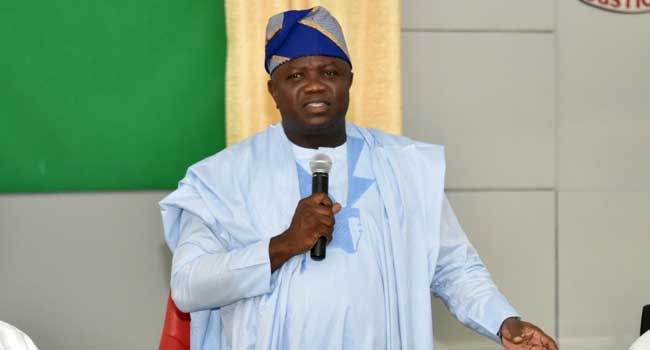 Lagos State Governor, Mr Akinwunmi Ambode, has warned permanent secretaries in the state to lead by example in the discharge of their duties.
He gave the warning on Wednesday during a brief swearing-in ceremony of two new permanent secretaries at Lagos House in Alausa, Ikeja.
According to a statement from his Chief Press Secretary Habib Aruna, the State Government had recently launched a special advocacy campaign to engender growth mindset among civil servants and imbue them with the right skills and attitude.
This is aimed at enhancing the efforts to fast-track development and set Lagos on the path of sustainable and inclusive growth.
Addressing the new appointees – Mrs Ayinde Olubusola and Mr Olusanya Abayomi, Governor Ambode asked them to key into the template already created for the civil service.
He said: "Every appointment comes with higher responsibilities and expectations. For the Lagos State Public Service, a template has been developed and it is being implemented systematically. Essentially, the template is about a change of mindset and the infusion of innovation and creativity in government business."
"As members of the top echelon of the public service, you are expected to be champions of this paradigm shift not only by words but by your actions. You must lead by example and create the environment for your subordinates to emulate high standards of performance," he added.
The governor explained that this was the only way the government could build a public service for the future and one that has what it takes to facilitate the level of development required of a Smart City.
Noting that appointees can succeed in their new assignments, he said although the exercise had become a regular ceremony to fill vacancies, concerted efforts must be made to resist the temptation to see it as a routine but a solemn commitment to live up to expected standards.
While Ayinde has been posted to the Office of Establishment and Training as Permanent Secretary, Olusanya is to assume office as Permanent Secretary/Tutor General, Education District II.
Responding on behalf of the appointees, Ayinde thanked the governor for the opportunity to serve at the highest level in the civil service.
She also assured him that they would serve with unalloyed commitment, dedication and support the good governance currently being witnessed in the state.
The post You Must Lead By Example, Ambode Warns Permanent Secretaries appeared first on Channels Television.